The Michigan Woodshop: View our gallery for your best place to find exquisite handmade writing instruments, to suite the most discerning fashion sense.  We have a wide array of various theme designs, such as Shooting, Hunting, Fishing, Breast cancer awareness, and Classic power styles.  We also offer kitchen utensils,  and personal grooming products.   We love to create custom orders to your specifications.  We can create using a plethora of wood choices along with many choices of accessories.  Please don't hesitate to contact us if something of your own design is what you  have in mind.
To view larger image click on the individual picture.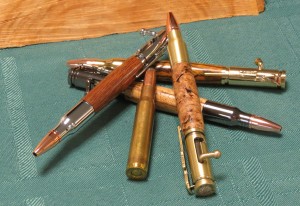 .30 Caliber bolt action pens
Finish-Antique Brass
Wood-Big leaf Maple
24k Gold Finish
Wood Splatted Tamerind
Gun metal finish
Wood Splatted Maple Burl
Finish-Chrome
Wood – Common Stock
Finish-Gun metal
Wood – Australian Blackbean
 Finish-Chrome
Wood – Marblewood
 Finish-24k Gold
Wood – Birdseye Maple
 Finish-Gun Metal
Wood – Zebra wood
 Finish-24k Gold
Wood – Bocote
Finish-Chrome
Wood – Common Stock
Finish-Chrome
Wood – Black Palm
Finish-Antique Brass
Wood – Splatted Maple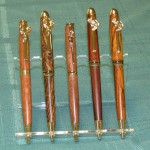 Hunting and fishing
Pens for the ladies.
Wall street writing instruments
Elegant writing instruments
Classic writing instruments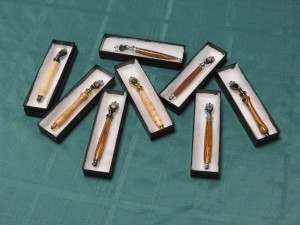 Razor handles.
 Magnifying Glasses